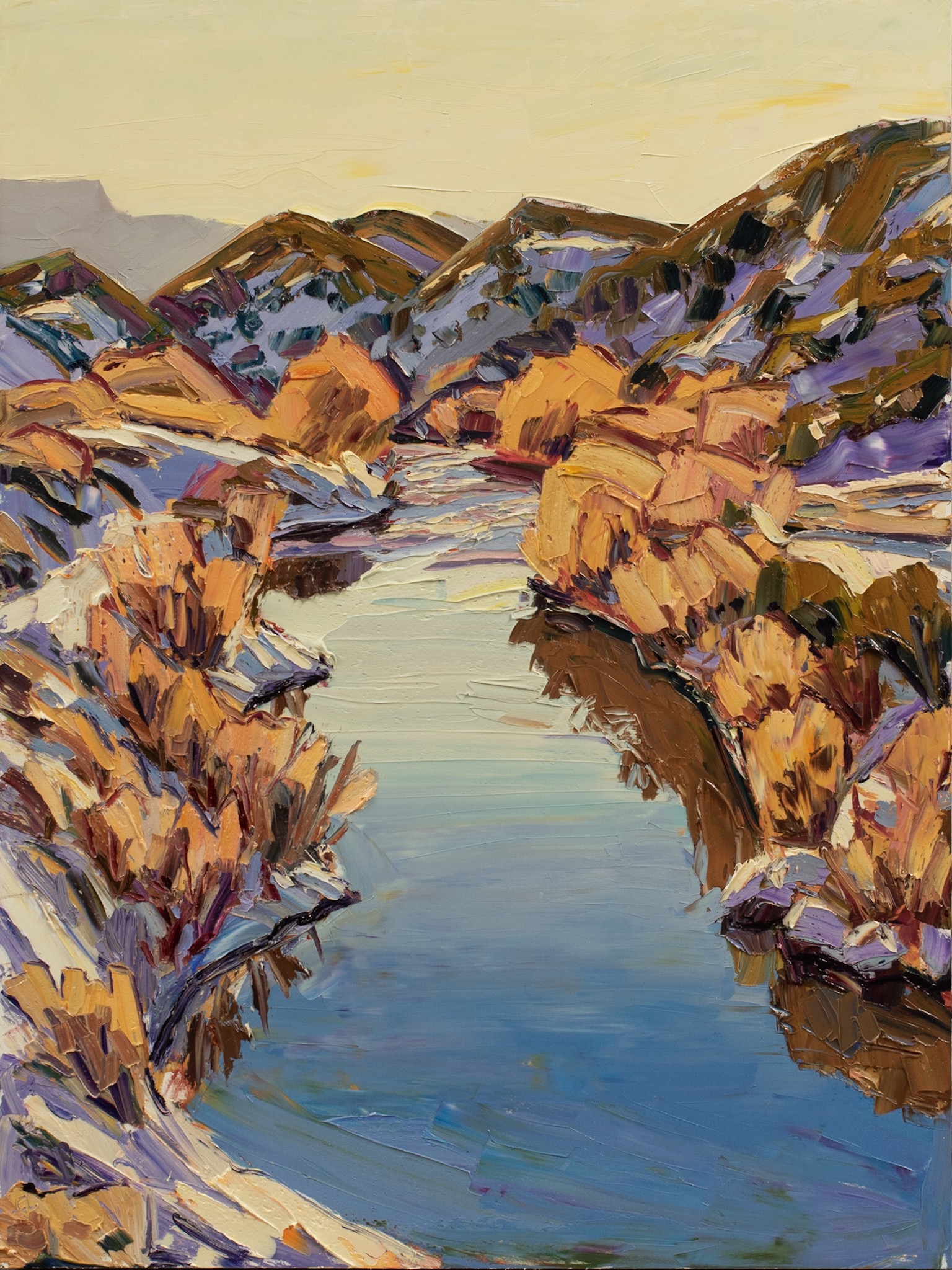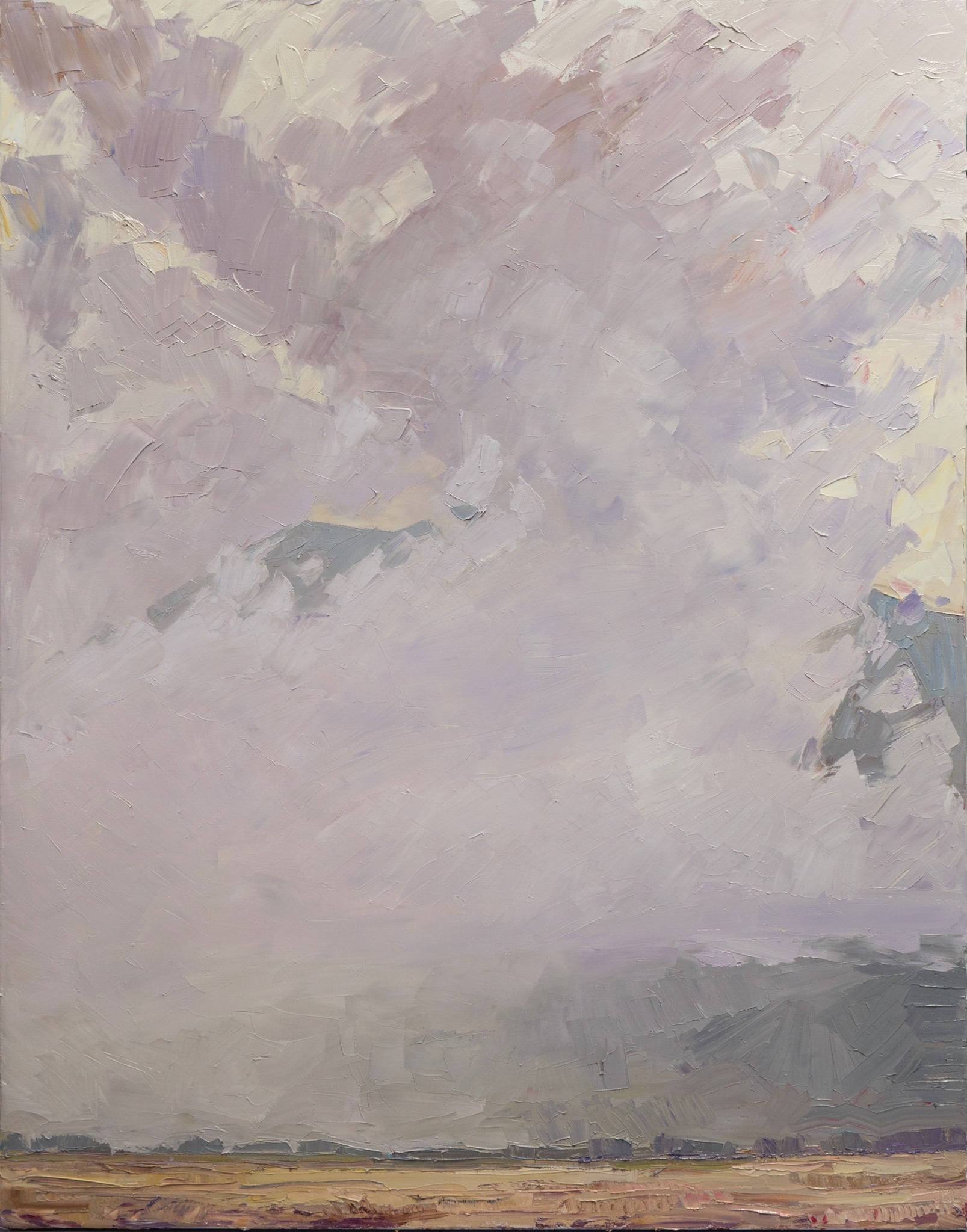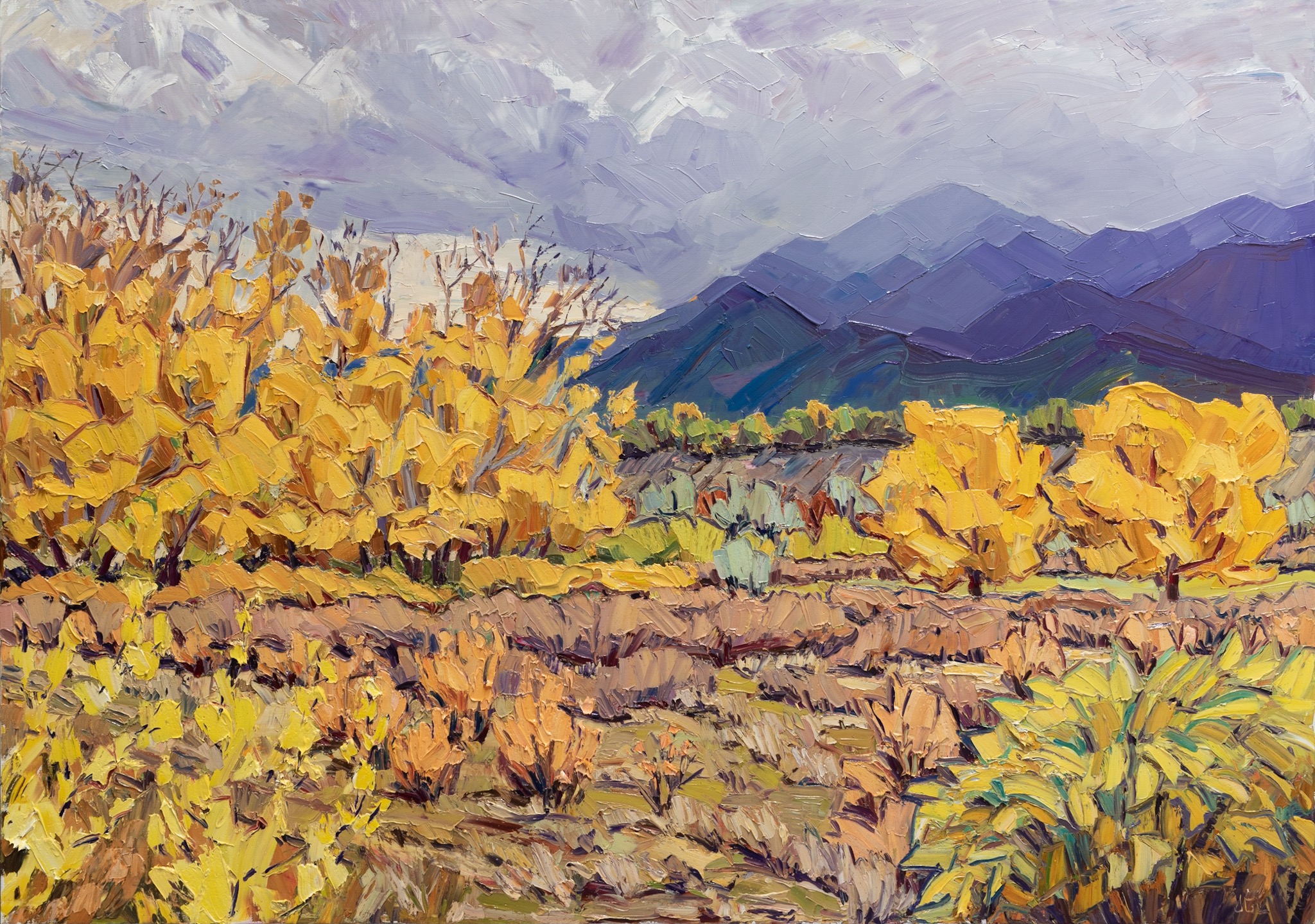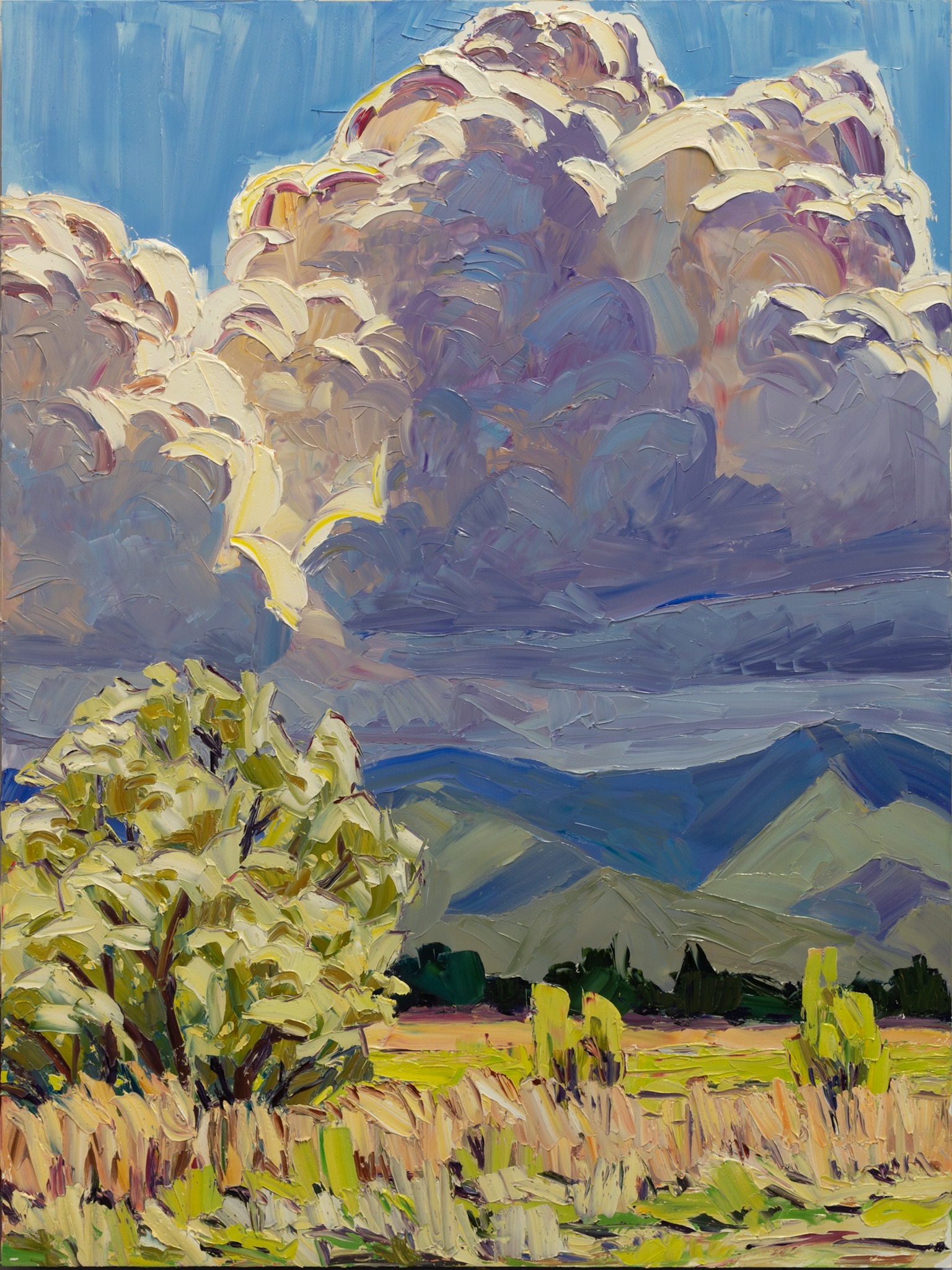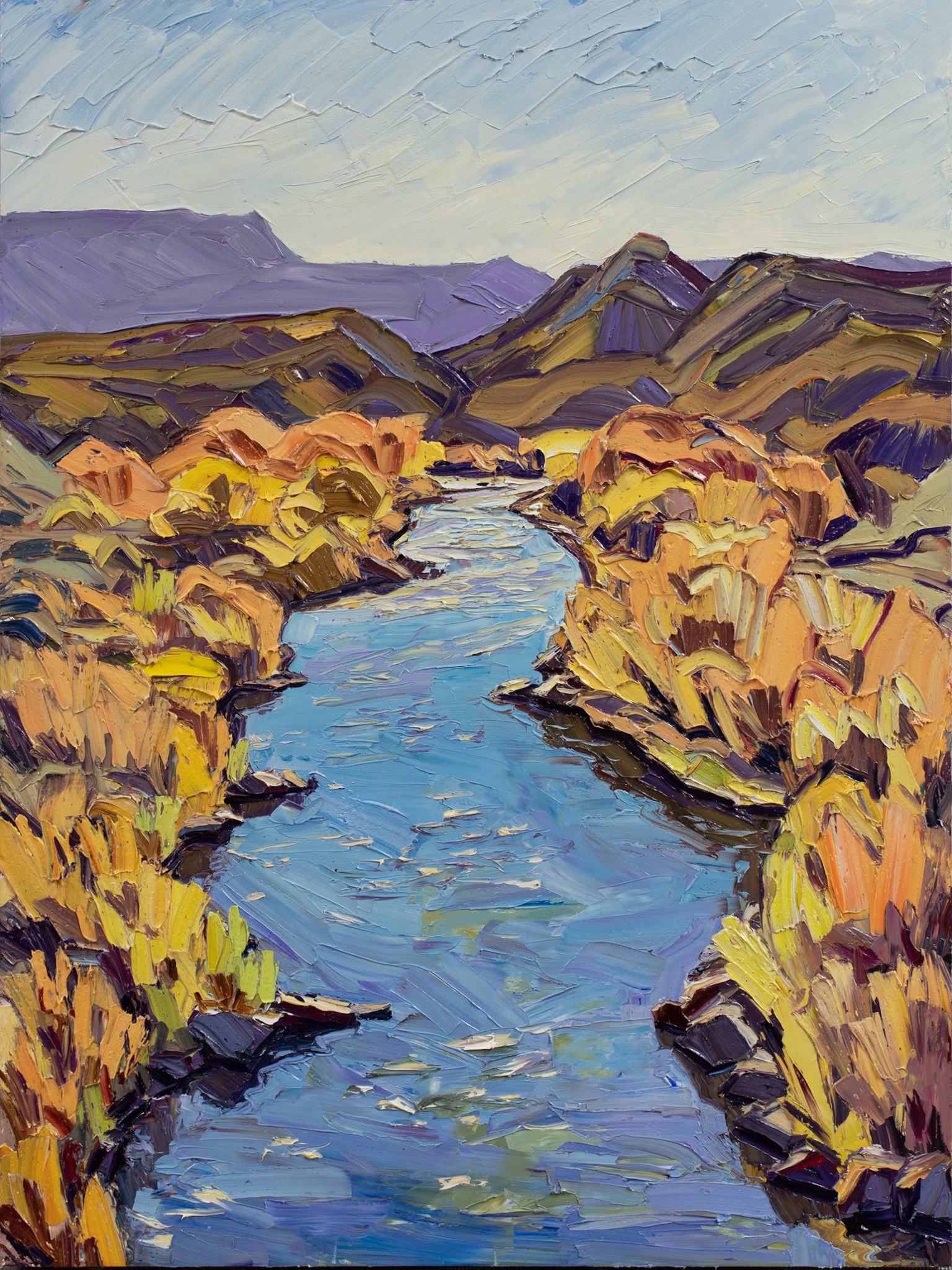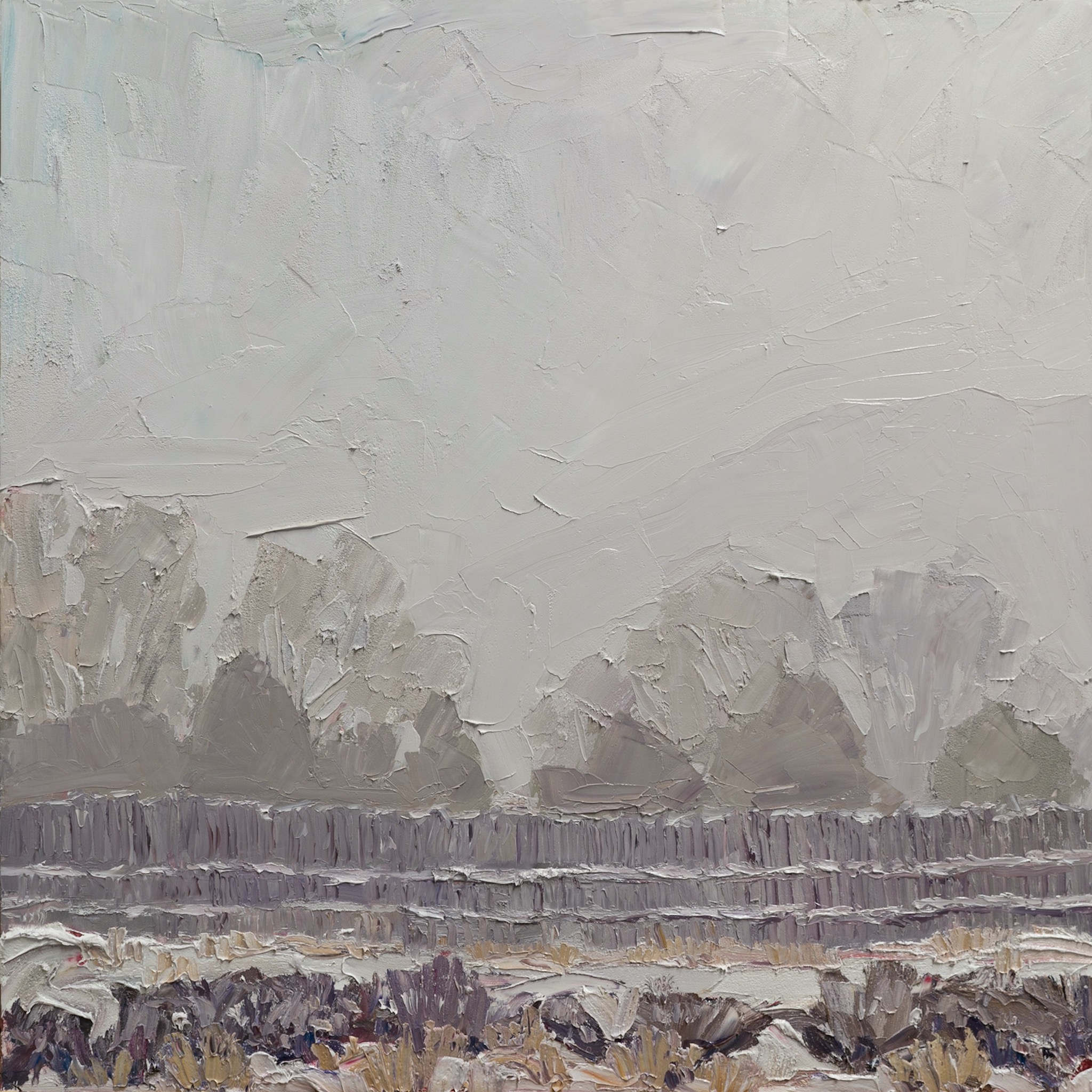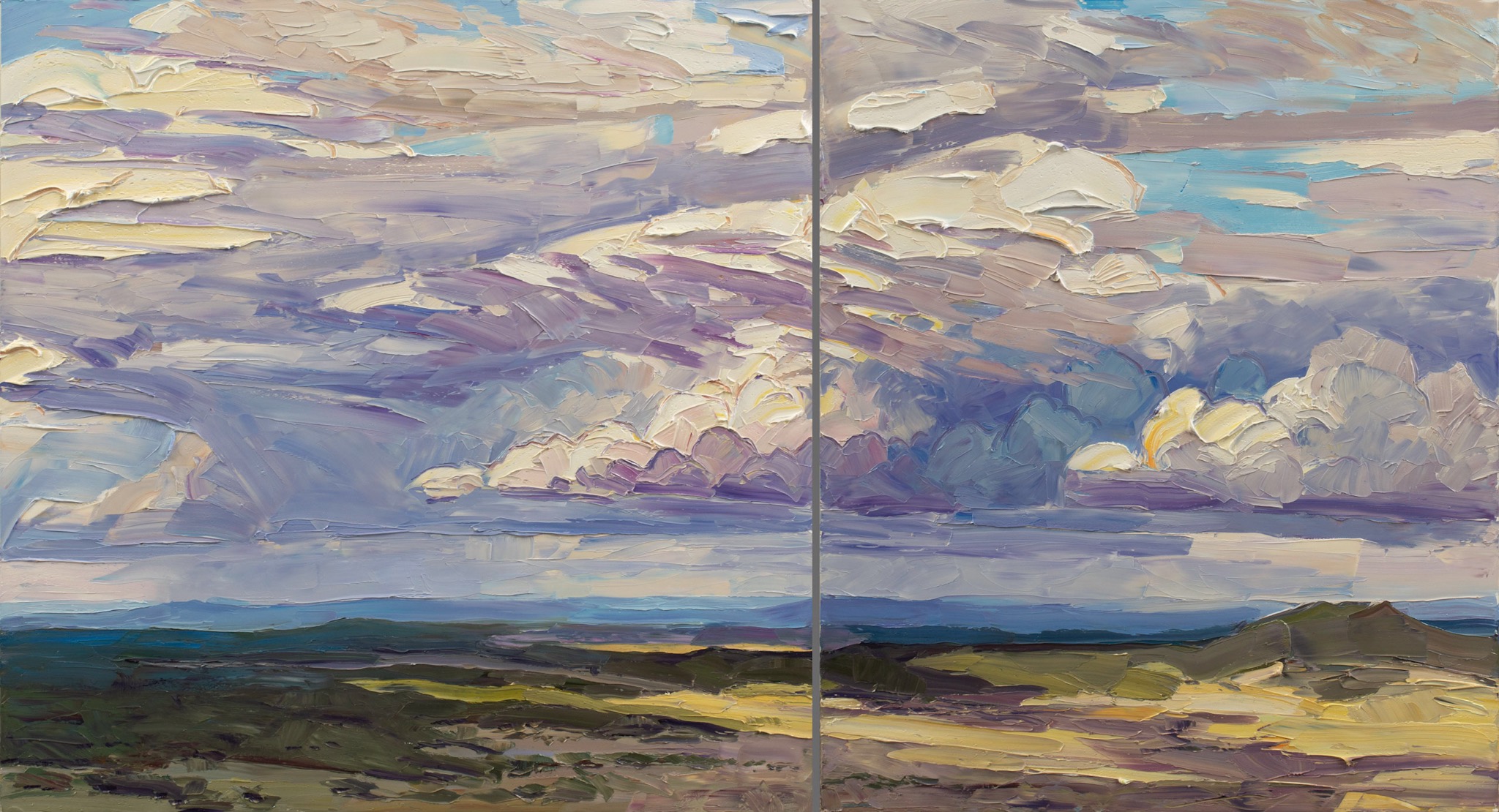 I have a solo exhibit - "Tributary" - at Altamira Fine Art in Scottsdale, AZ, up in January 2019. Here's my very long statement about this group of paintings, all made en plein air as is the case with most of my landscape work:
Painting is many things to me: A teacher, a playground, a taskmaster, and an act of respite, to name a few. Each show I produce adds new contours to my understanding. Tributary came together quickly, without any real hiccups. Yet like a river glassy and calm on the surface, but with a swift current beneath, making this show was an almost paradoxical endeavor. More than other shows it was borne of the easy and the difficult, the wild and the controlled; calm paintings emerged from upheaval, trying paintings from calm days. It became an education in existing within complexity.
The work in Tributary predominately portrays loosely objective images of Northern New Mexico. Like most of my landscape work, the paintings resulted from an unscripted process. They spontaneously started outside amidst the elements, in the rhythm of a particular day and its weather, and then progressed from on-location painting to a culmination in my studio in Taos.
Tributary's paintings build on work from the last several years and are - in my estimation - most dynamic and engaging when viewed up-close as well as from afar. They are paintings of specific places, but they're about the physical object as much as anything; about the tangible, textural, inspirational material that is oil paint. From ten feet away they appear as rivers or storms or foliage. Closer up they reveal a cacophony of marks, sometimes garish colors pushed to the limits of believability, and passages that teeter on the precipice of collapse.
Together the paintings further lines of artistic inquiry that I have been eager to explore – some being about specific subject matter and compositional choices, but the gestalt of which is the balance of chaos and control that I believe sustains dynamism in art. Engaging this flux brought up questions of a dual nature, ones that applied to art and life beyond the canvas: about perspective and context; about appropriate conduct and effort; about how one sees, what one misses or actively ignores, and what one embraces or refuses within art-making and wider life.
Shows are shaped by their context and they come into focus in relation to their background. Tributary grew out of the mundane as well as the harrowing and heartbreaking. Much of the context was just a full family life being lived, the seemingly small things that pepper any given day: the baby needs a diaper change for the third time this hour; the dog is up all night because he got into the neighbor's trash. We don't sleep, our baby doesn't sleep, five teeth come in in one week; a grumpy morning, a fun trip, a chance meeting.
Yet these mundane things were recast by Big Things: life and death, safety, illness, home, war and peace. Small stuff became simultaneously more meaningful and important, and less so. So too did the reason for art, and for making this show – its value, potential, and role as witness, expression, and tribute became imminently apparent and also receded amidst survival-level realities.
In late October, for example, a neighbor was gunned down a few blocks from our home, where I painted "Here and then gone." The victim – a neighborhood Crime Stopper – was shot in the belly in front of the community center, at the heart of our rural village.
During a trip abroad, while searching for the inspiration for paintings like "Skyward," a taxi driver absentmindedly drove off when my wife and one-year old daughter were still getting into the car. They were dragged and nearly crushed on the concrete curb of an Edinburgh street; I was right there and yet unable to do anything about it. A momentary lapse in attention on the driver's part nearly decimated all our lives. And miraculous happenstance had us all walk away.
The day we arrived back in the US, news outlets flashed headlines of bombs being mailed to public figures around the country. O'Hare Airport's atmosphere was thick with tension and unease. It remained the predominate story while I painted "Meanwhile, in New Mexico," the first piece I made back in the U.S.A. That same week, down the road from where I painted "Atmospherics," someone was robbed. It's not the first time.
Work developed in step with these background events. Big things and small things occupied my attention together; both deeply shaped how and when I could work. They shaped what I could paint. They shaped the manner in which I approached the paintings. And their complexity – the webs of cause and effect – was an animating force that brought each work to conclusion.
I wondered in "Skyward" how the barely-seen and seemingly insignificant can hold so much power, can say so little and impact so much. In the river paintings, I wrestled with right action in the face of encroachment and imposition – on my time, on my property, in business; with where "good" work originates, how it happens despite my faux pas', and how much I actually have to do with it. The snowy piece, "Here and then gone," arose out of worry for my family's safety and the exhilaration of being alive in a pounding snowstorm. "Meanwhile, in New Mexico," with its fall colors and pastoral view, developed in tandem with anxiety for the country's future, nervousness about being robbed, and distraction about getting our daughter to bed on time. "The midline" appeared out of deep reverence for the Rio Grande in fall as well as out of uncertainty regarding complications from chronic medical issues.
All this makes these paintings, for me, poignant reminders and ongoing teachers. They contain some of the context in which they were made. They were borne in response to the beautiful and the awful, and they inform responses to such things moving forward. They show me when I went off the rails, or when a challenge was leavened some by making art, or when I learned something new about painting or took a creative risk that brought a big reward. This is why I especially treasure process-evident painting: a story of each painting's development is apparent on the canvas and in the paint's nature. In its tone, manner, and topography one can see and feel momentum, mood, and vitality. There is joy and stagnancy. There is struggle and reconciliation. It's all right there, collected, together building towards a larger coherence and meaningfulness.
Yet part of the miracle of art is its simultaneity: it is personal and universal at once. It's essential and yet we can live without it. It can change lives, it can change the world; it can do so and still disappear without a trace. As an artist, art is much about the making and what transpires during the making. I remember my stories, my realizations. But the artwork has a life of its own, too. It travels into the world and instigates experiences that are about more than the content of a given work, and certainly about something more than the artist. The artwork can speak to life more broadly; it reaches others at levels that are uniquely personal and often surprisingly interconnected.
These paintings were made in tribute to art and life, to inspiration, and to the rejuvenating wildness that exists in nature and our most inventive and beautiful moments as humans. And they were also made in response to some of the saddening, maddening, and upsetting facets of humanity. Tributary exists because of something far greater, larger, and more important than the paintings that make up the show: a rich, baffling complexity to which we all are vital, a complexity that animates the ever-flowing ever-changing watercourse that is human endeavor.